Automated Document Capturing

Ein Unternehmen erhält im operativen Betrieb täglich eine Vielzahl an unterschiedlichen Dokumenten (Rechnungen, Lieferscheine, Bestellungen, Aufträge, etc.). Eine automatisierte Dokumentenklassifikation und anschließende Datenextraktion kann dabei eine große Unterstützung darstellen und ganze Anwendungsfälle vollständig automatisieren. 
Klassische Use Cases umfassen dabei:
Assigning documents to business cases / objects / employees

Extracting useful information from unstructured information

Making archived documents and information usable

Reading additional customer-specific characteristics

Accelerating processes through document information (e.g. claims processing, object allocation for real estate, granting of loans, etc.)

Data security, professional operation and support
The Classics in Document Capturing:
Delivery Notes and Order Forms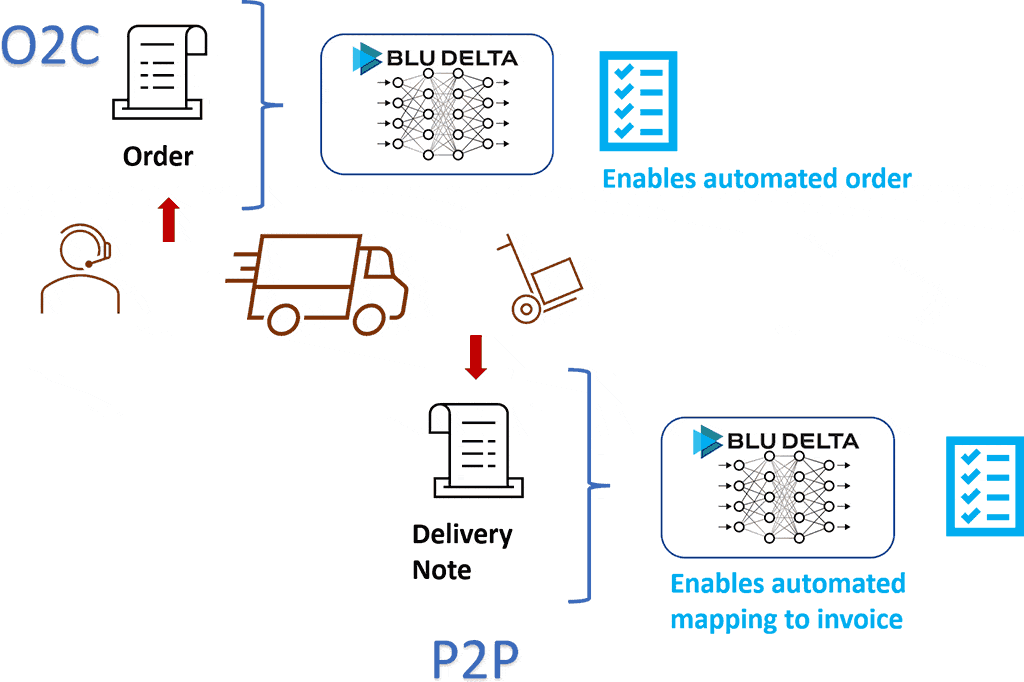 Order-To-Cash and Purchase-To-Pay are the classic processes that benefit most from artificial intelligence such as deep learning and AI transformer architectures. Why?
The biggest hurdle for the follow-up processes is the quality of the automated document recognition and capturing (or data capture). Every mistake that happens here is multiplied in the subsequent processes. Accounts payable, accounts receivable, finance planning, finance reporting, etc. depend on the quality of the input data. Mistakes cause extra work in all departments.
The situation in the area of ​​orders is similar but affects revenue.
Thus, fault tolerance is even less.A uniform, automated data extraction using pre-trained AI models trained for the understanding of delivery note or order documents helps to increase quality accordingly.
Pre-trained BLU DELTA models can be optimized with the help of additional customer data and continuously improved through a learning interface.
Information from documents with pre-trained AI models

The BLU DELTA AI models can either be used directly for your use case or adapted for a specific case through additional models. In the process, the documents are enriched with meta-information that is used for later classification or assignment. Contacts, sender, recipient, date, document type, etc. can be read out. A comparison with existing data is also possible.