Flexible components enable many usage scenarios
The BLU DELTA AI components and platforms are used for a wide variety of problem solutions by our customers (such as invoice capturing, automated accounting, archiving, claims processing, etc.). Discover the variety of usage scenarios based on the diversity of BLU DELTA AI components.
More efficiency without much effort:
Enhance your own workflow with BLU DELTA intelligence.

If a satisfactory workflow already exists that should continue to be used and can be used independently of the existing OCR (e.g. in DMS or ECM systems), then an exchange with the BLU DELTA AI API is a suitable option.
Existing input, integration and workflow components continue to be used and the existing OCR is replaced with a minimally invasive modification. Thanks to the existing REST APIs, this can be implemented quickly and easily by the in-house IT partner, the in-house IT or, if desired, by our professional service team.
Automated pre-capturing for your accounting.
Simply place the BLU DELTA intelligence directly in front of your system and benefit from pre-captured data!
BLU DELTA AI supports your staff with pre-capturing and in most cases already provides valid and structured data. In the follow-up system, you can transfer this data directly and (if desired) match it with your own data to enable increased automation.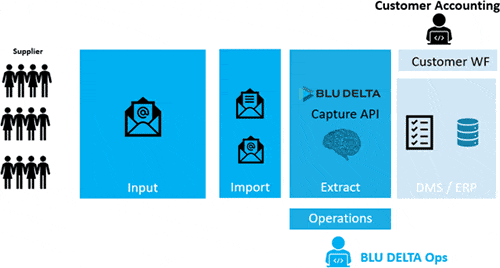 More comfort for your online service (also on your mobile phone).
Use the BLU DELTA Capture API for your mobile customers and extend your service with automatic recognition of document data.
The high-performance BLU DELTA Capture API reads the information of most documents in the shortest possible time and can therefore also be used for online services.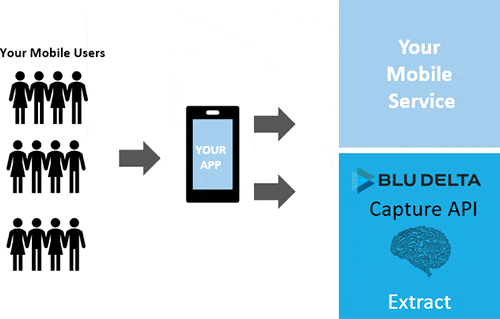 The core: BLU DELTA Capture API
The BLU DELTA intelligence is home to the trained machine learning models and makes the functionality available via simple REST APIs. An incoming image thus becomes structured data in a JSON format. Also included are the pure OCR text data as well as a generated text PDF that contains markers of the information found.
The BLU DELTA Capture SDK can be used without any further components and can also be tested immediately with unknown invoice layouts free of charge!
BLU DELTA AI validation with assistan