The BLU DELTA AI Invoice Capturing
immediately. easy. high-quality.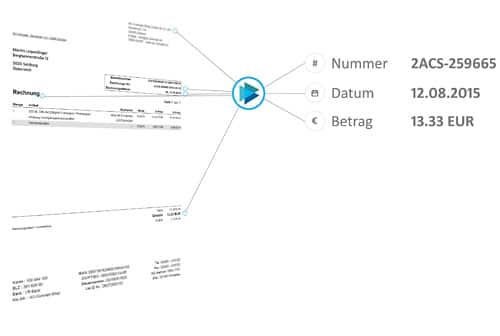 Sofort 40 (+) Rechnungsmerkmale erfassen

High recognition rates even without training

Own invoice details? No problem!

Data extraction keeps getting better.

Flexible: OCR API, validation interface, input channels

Easy integration into your invoice processing

Intelligent master data synchronization

Cloud and on-premise capture available

GDPR compliant and secure

International document layouts already integrated

Continuous further development free of charge

Technology, support and advice directly from the manufacturer
No Effort: Enter ALL Invoice Details Immediately
The Artificial Intelligence was trained for more than 32 invoice features.
Unknown invoice layouts or receipts are recorded immediately and without any effort with high recognition rates (even without master data comparison).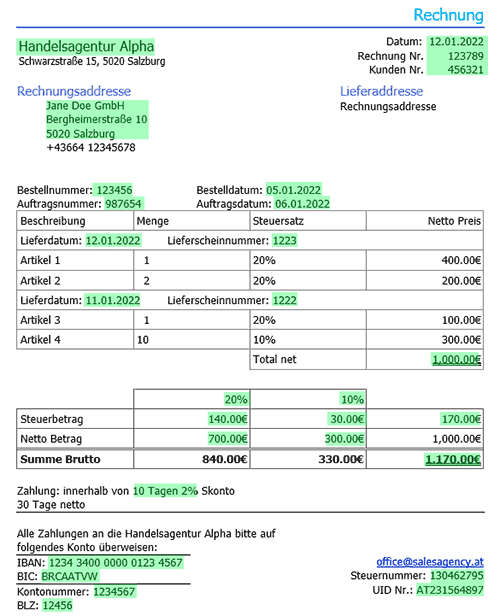 Supported Document-Header

Document Type

Invoice Recipient Name

Currency

Invoice Recipient VAT ID

Invoice Number

Invoice Recipient Address

Invoice Date

Tax Number (DE)

Order Number

Gross Total Amount

Order Date

Payment Terms

Job Number

VATs

Order Date

VAT Rate

Delivery Number

VAT Amount

Delivery Date

Net Amount

Customer Number

Delivery Timeframe

IBAN + BIC

VAT exemption

Account Number + Sort Code

Cost Center

Invoice Sender Name

All addresses

Invoice Sender VAT ID

 

Invoice Sender Address

 
Invoice Capturing: Line Items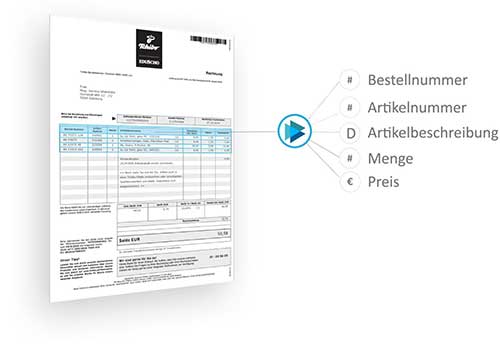 The BLU DELTA-AI invoice capturing also contains a model for the extraction of line item data or individual items.
For the entry of receipts with complex line structures, the model can also be optimized through customer-specific training with example documents.
Specific Invoice Details for Automated Invoice Processing
Special details are often required for efficient invoice capturing in order to be able to automate the following invoice processing (e.g. 3-way comparison, posting, etc.) (e.g. for assignment to an invoice recipient, a company code, to identify construction sites or motor vehicle damage, transport number, project number, etc.).
On the one hand, we have pre-trained, industry-specific details in our invoice capturing portfolio, that can also be helpful in your case. On the other hand, we can use the BLU DELTA AI technology to inexpensively train our own AI models for your special requirements in invoice capturing.
Regular Improvements of Invoice Capturing without Effort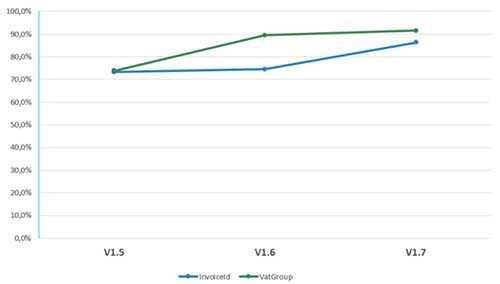 Based on sample invoices from our customers, our feedback process identifies valuable examples and feeds them into the training in a semi-automated manner. Through this controlled mechanism, the AI models of invoice capturing are continuously improved for all our customers. We then make the optimized AI models available to all customers regularly via our API or on-premise invoice capturing service.
We train and the customers benefit!
Flexible Components allow Invoice Capturing for every Industry and Size
When capturing invoices, there is a wide variety of use cases for a wide variety of industries, company sizes (from SMEs to large companies) and partners such as IT service providers, DMS/ECM workflow providers.
Thanks to the flexible BLU DELTA platform and component architecture, it is possible to use only the intelligent invoice capturing as a component or to cover the process up to a complete input management system (including input channels, web interface and integration into a target system). The BLU DELTA Cloud APIs allow quick and easy integration into any invoice processing workflow. A wide range of configuration options within the components also enable individual adjustments.
Invoice Capturing In-House, as a Cloud or Managed Service
This architecture enables the coverage of requirements such as scalability, fast availability and operational security for the needs of SMEs to large companies.