The BLU DELTA AI Invoice Capturing
immediately. easy. high-quality.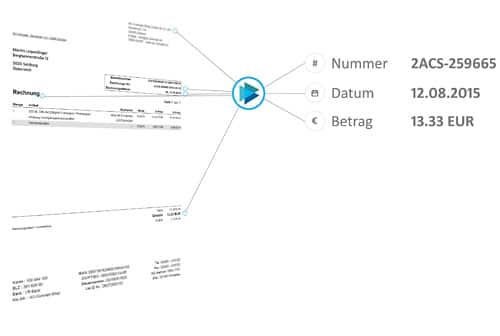 Enter 40 (+) invoice characteristics immediately

High recognition rates even without training

Own invoice details? No problem!

Data extraction keeps getting better.

Flexible: OCR API, validation interface, input channels

Easy integration into your invoice processing

Intelligent master data synchronization

Cloud and on-premise capture available

GDPR compliant and secure

International document layouts already integrated

Continuous further development free of charge

Technology, support and advice directly from the manufacturer
No Effort: Enter ALL Invoice Details Immediately
The Artificial Intelligence was trained for more than 32 invoice features.
Unknown invoice layouts or receipts are recorded immediately and without any effort with high recognition rates (even without master data comparison).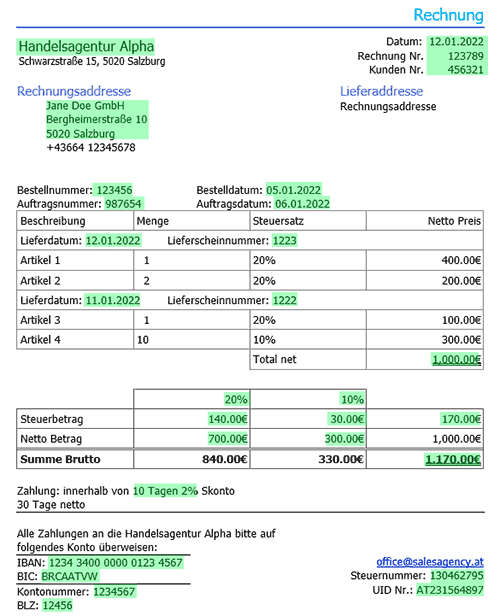 Supported Document-Header

Document Type

Invoice Recipient Name

Currency

Invoice Recipient VAT ID

Invoice Number

Invoice Recipient Address

Invoice Date

Tax Number (DE)

Order Number

Gross Total Amount

Order Date

Payment Terms

Job Number

VATs

Order Date

VAT Rate

Delivery Number

VAT Amount

Delivery Date

Net Amount

Customer Number

Delivery Timeframe

IBAN + BIC

VAT exemption

Account Number + Sort Code

Cost Center

Invoice Sender Name

All addresses

Invoice Sender VAT ID

 

Invoice Sender Address

 
Invoice Capturing: Line Items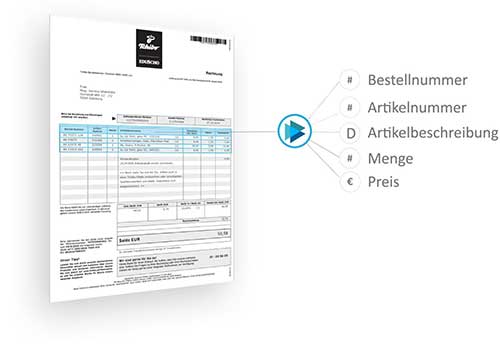 The BLU DELTA-AI invoice capturing also contains a model for the extraction of line item data or individual items.
For the entry of receipts with complex line structures, the model can also be optimized through customer-specific training with example documents.